Striploin Steak with Herb Butter & French Bistro Potato Salad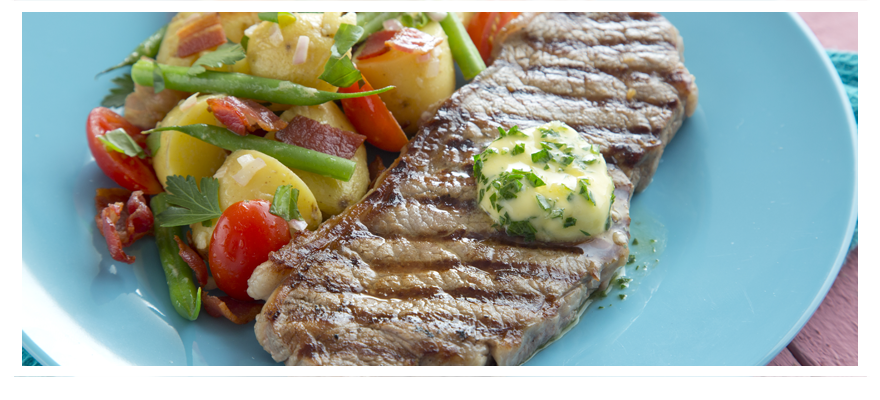 Method
Place the potatoes in a pot of boiling water and simmer for 20 minutes until cooked through. To make the herb butter, in a small bowl mix together the butter with finely diced parsley, tarragon and garlic and a small pinch of sea salt. Lay a piece of cling film onto a board and spoon out a line of the butter. Roll it up tightly and twist the ends into a sausage shape on and set aside in the fridge to firm up.
In a large bowl whisk the Dijon mustard, red wine vinegar and olive oil to combine. When the potatoes are cool enough to handle, cut them into quarters, add to the dressing and toss well. Blanch the French beans for a couple of minutes in boiling water until cooked and add to the potatoes. Add the shallots, parsley, basil and cherry tomatoes. Fry the bacon until crispy and add it also.
Remove the steak from the fridge at least 45 minutes before you plan to cook it. This allows it to come to room temperature and makes for more consistent cooking. Heat a grill pan on a high heat. Season your steak generously, pat it in and rub with a little olive oil also.  Lay them in the hot  pan and cook for about 2 ½ minutes per side for medium, turning once.
Transfer the cooked steaks to a plate and allow to rest for 3-4 minutes before serving. Give the potato salad a good mix to ensure everything is well coated with the dressing. Serve the steak with a slice of the herb butter and a generous spoonful of the salad and enjoy!